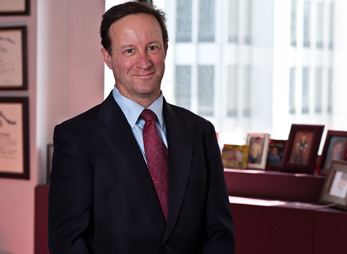 Ron's active trial practice includes defending railroads, construction companies; police departments, and professionals, such as accountants, attorneys, pharmacists and clergy.  He also represents these clients before government agencies such as the SEC, IRS, Department of investigation and state disciplinary bodies.  A founding member of LCBF, Ron has over 34 years of experience and has tried over 70 cases in the state and federal courts of New York, Pennsylvania and other jurisdictions.
Ron has been selected as a New York Metro Super Lawyer for 2013-2021.  Super Lawyers is published by Thomson Reuters.  A description of their selection methodology can be found here.  No aspect of this advertisement has been approved by the Supreme Court of New Jersey.
Examples of Ron's favorable results include:
Defense verdict in a wrongful death action;
Defense verdict in a construction accident where plaintiff claimed he was blinded in one eye;
Defense verdict where plaintiff was struck by a train and survived;
Recovered attorneys' fees and did not contribute to the settlements, which totaled almost $15 million dollars, in case involving a runaway crane which rolled approximately 4,000 feet and struck a construction site seriously injuring five workers;
Defense verdict in a construction accident where plaintiff was injured by a collapsing elevator cab which had been designed and fabricated by client;
Defense verdicts in other elevator and escalator cases;
Defense verdicts in favor of police officers in cases involving alleged civil rights violations;
Defense verdict in commercial dispute;
Successfully defended multiple accountants in disciplinary proceedings involving allegations including ethical violations;
Disqualification and/or significant preclusion of plaintiffs' liability and medical experts in wrongful death, Federal Employers' Liability Act, construction and escalator cases;
Clients often ask Ron to make presentations about developments in the law and risk management.  Ron has also been asked to speak at National Police Week in Washington D.C. and to provide guidance to law enforcement agencies.
Ron helps direct the firm's Continuing Legal Education Program.  He has lectured on several topics, including litigation strategy and trial tactics for both attorneys and clients, and  has served as a judge for the American Mock Trial Association Regional Tournament.
Ron began his career as an Assistant District Attorney in Kings County, where he went on to become a Supervising District Attorney of its Narcotics Bureau.
Representative Cases
Combined Container Inc. v. Prominent CPA Firm (Sup. Ct. Nassau County) (tried before jury and obtained a defense verdict, where company sued its accounting firm for almost $1 million after its bookkeeper embezzled $684,000 by putting her husband on the payroll; CPA firm had performed accounting for the defendant for at least 30 years and been retained to review the plaintiff's financial statements for the period of the fraud; successfully argued that the CPA firm complied with the applicable AICPA standards and that it was not responsible for uncovering the fraud)

Vega v MTA (Sup. Ct. New York County) (construction worker's finger tip was struck by a piece of falling concrete and partially amputated; after it was re-attached in the hospital, plaintiff had two more surgeries, a fusion of the finger and removal of the hardware; he claimed that he developed Reflex Sympathetic Dystrophy/Complex Regional Pain Syndrome, has allodynia from the tips of all five fingers up to his shoulder, and has no use of his left upper extremity, as well as a full and permanent disability as a result of psychiatric issues; plaintiffs' counsel asked the jury to return a verdict of approximately $33 million for his client's Labor Law claims; jury returned a net verdict of approximately $725,000, substantially less than LCBF's client had offered to settle)

Alanna Stone v Police Department and Two Police Officers, 13-cv-0484 (TPG) (S.D.N.Y.) (in civil rights lawsuit against the two arresting officers and their department claiming wrongful arrest and police brutality and seeking both compensatory and punitive damages, jury exonerated one officer and found that, although the other officer should not have arrested plaintiff, there was no police brutality, awarded plaintiff only $15,000 in compensatory damages and no punitive damages; court sliced plaintiff's counsel's fee request by almost 90%)

Fox v. SLS Residential, Inc., Index No. 14183/2008 (Sup. Ct. Nassau County) (granting summary judgment for an owner and administrator of a psychiatric facility sued by the family of a woman who had been decapitated and dismembered by an out-patient)

Vega-Santana v Amtrak, (S.D.N.Y.) (dismissing personal injury claim by an author, who contended that she fell on an escalator and suffered a fractured distal radius and traumatically induced arthritis that prevented her from writing)

Fox v. Marshall, 88 A.D.3d 131 (App. Div. 2d Dep't 2011) (rejecting plaintiff estate's claim that clients affiliated with residential treatment facility may be held liable for medical malpractice for not controlling a voluntary mental health outpatient who committed a seemingly random murder of his mother's neighbor)

Lennon v. Metro North Commuter Railroad, (Sup. Ct. New York Co. 2010) (jury returned a net verdict of $226,000, where plaintiff had demanded $2 million for FELA claim, that while walking between cars of a moving train, her arm became trapped in a door, causing reflex sympathetic dystrophy that prevented her from returning to work and required implantation of a spinal cord stimulator for pain alleviation and opiates)

Cevasco v. Amtrak, 606 F. Supp. 2d 401 (S.D.N.Y. 2010) (five actions in the Southern District of New York arising out of a construction accident in which a high rail crane rolled approximately 4,000 feet and struck five workers at another construction site; the workers sustained significant injuries including a foot amputation, de-gloved leg, brain injuries, hearing loss, fractured clavicle, a collapsed lung, and spinal, shoulder and knee injuries requiring a cervical decompression with fusion, laminectomy with fusion and AC joint resection; the court ruled that, regardless whether client had been negligent in operating or maintaining the crane, client's co-defendant contractors were contractually responsible for defending and indemnifying Amtrak; all of the claims were thereafter settled without any monetary contribution from client)

Scotto v. Amtrak, No. 05-cv-4757 (S.D.N.Y. 2009) (jury verdict of only $370,000 where defendant did not contest liability in train derailment causing significant cervical and lumbar herniations and plaintiff demanded $12 million in closing)

Schuman v Amtrak, No. 06-cv-14290 (S.D.N.Y. 2009) (jury verdict of only $673,000 where defendant did not contest liability in a train collision causing severe back injuries including multiple herniations that required surgery. Plaintiff originally sought $15 million in economic damages and maintained a $5 million demand at trial)

Hoyte v Amtrak, 2006 WL 2053383 (S.D.N.Y. 2006) (jury verdict of only $24,000 where defendant did not contest liability in a train collision allegedly causing multiple disc herniations and traumatic brain injury. Plaintiff, a computer programmer at a Wall Street brokerage earned over $100,000  per year prior to the accident and contended that he could not return to work. Plaintiff's counsel asked the jury for several million dollars)

Gavitt, et al v. Citnalta Construction Corp., No.120689/03 (Sup.Ct. New York Co. 2006) (defense verdict in case where construction worker's eye was struck by rivet, causing loss a substantial portion of his eye and requiring several surgeries, and plaintiff's counsel asked jury to award $8,225,000 in damages)

American Home Assurance Co. v. Hapag Lloyd Container Line, 446 F.3d 313 (2d Cir. 2006) (rail carrier was employed by primary carrier and thus entitled to limitation of liability protections of Himalaya Clause)

McDougall v. National R.R. Passenger Corp., 2005 WL 713339 (E.D.Pa. 2005) (dismissal, following bench trial, of claims by defense attorney against police department for unlawful arrest, malicious prosecution and excessive use of force after the criminal case against him was dismissed; his civil rights action was tried to a defense verdict)

Mercon v. DiPasquale, 2005 WL 696885 (S.D.N.Y. 2005) (dismissal of action for alleged sexual abuse against a religious order)

Oshatz v Amtrak, (2003 WL 22872038 (E.D.Pa. 2003) (dismissing claims of wrongful arrest, false imprisonment and intentional infliction of emotional distress)

Kaplan v Sachs, 234 A.D. 2d 271 and 224 A.D. 2d 666 (2d Dep't 1996) (affirming dismissal of legal malpractice action where criminal defense attorney allegedly prematurely rested at criminal trial in order to go on his honeymoon)

In Ward v. CSX Transportation, Inc., which was brought in Supreme Court, Bronx County, LCBF successfully moved for summary judgment dismissing all of the claims asserted against Union Pacific. Plaintiff contended that, while unloading a railroad boxcar, he was crushed by cascading boxes of produce and suffered several herniated discs requiring a spinal fusion. Union Pacific allegedly provided a defectively equipped boxcar, which allowed the freight to collapse, and improperly loaded and inspected the boxcar. LCBF established that the boxcar was not defective, and the railroad was not responsible for loading or inspecting the loaded boxcar

The claims of a worker who allegedly suffered serious injuries while working in a rail yard were dismissed by the Supreme Court, Queens County in Ferrara v. NY & Atlantic Railway Co. et ano. The suit, arising from a 1998 accident, was filed in 1999. Plaintiff was allegedly injured by a railroad tie he contended was dropped on him by a backhoe. The case was twice marked off the calendar by the Court. The first time, it was reinstated by the Appellate Division. In awarding our client summary judgment and denying plaintiff's motion to amend the complaint, the trial court found Labor Law sections 240(1) and 241(6) inapplicable on the grounds that the accident arose from routine maintenance and that amendment of the pleadings would cause prejudice. The court also dismissed plaintiff's common law negligence claims, holding that the doctrine of res ipsa loquitor could not overcome the lack of any eyewitness or other evidence of defendant's negligence
Practice Areas
Admissions
New York, 1984
Florida, 1996
U.S. District Court Southern District of New York
U.S. District Court Eastern District of New York
U.S. District Court Southern District of Florida
U.S. Tax Court
U.S. Court of Appeals 2nd Circuit
U.S. Court of Appeals 3rd Circuit
Published Works
Cross Examination of Plaintiff's Economic Expert in a Personal Injury Action, DRI: Trials and Tribulations, April 23, 2012
Associations and Professional Activities
Defense Research Institute
National Association of Railroad Trial Counsel
New York County Lawyers' Association
Brooklyn Bar Association
Associate Member of the New York State Society of Certified Public Accountants
Practicing Attorney for Law Students ("PALS") Mentor
American Mock Trial Association Regional Tournament moot court judge
Honors and Awards
New York Metro Super Lawyer, Civil Litigation Defense, 2013-2021 [see text to the left]
Education
J.D., Boston University of School of Law, 1983
B.S., Cum Laude, Accounting, State University of New York at Albany, 1980
© 2012 by Landman Corsi Ballaine & Ford P.C.